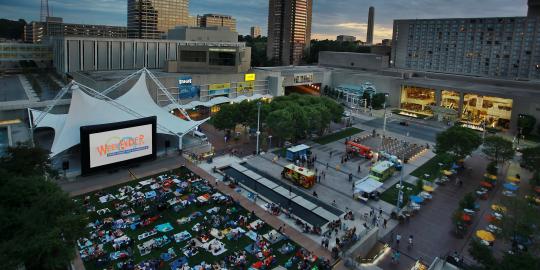 Crown Center Kansas City
UNIQUELY KANSAS CITY, ALWAYS CROWN CENTER
Visit Crown Center in the heart of Kansas City to find one-of-a-kind shopping, dining, can't-miss events and attractions. Bring your family and friends and explore what makes Crown Center uniquely Kansas City.
From free exhibits and outdoor events to live theater and summer promotions, Crown Center has it all.
Opening Saturday, May 29, our two free summer exhibits, Under the Sea Adventure and Greetings, Saul Steinberg, will entertain and educate.
From May 29 - September 6, 2021, select adventures and complete missions around the Crown Center complex.  Learn more about our Passport to Summer Fun.
We look forward to welcoming you to Crown Center!
Shop Hours
Monday - Saturday
10am - 6pm

Sunday
Noon - 5pm

Labor Day, September 6
Noon - 5pm


Stay updated and get the latest news!
As a Member of the Crown Center Club, You Receive:
Details about upcoming Events & Specials
Introductions to new Shops & Restaurants
All the latest news